EHW series wire rope air hoist
(Rated load between 60 and 120 kg)
The up and down buttons and handle are mounted on the lower hook.
While ensuring the stability of a suspended load, this type of Air Hoist provides better controllability compared to the pendant type.
This type is equipped with a reverse-winding prevention device so that the air motor stops automatically when the wire rope is pulled out by 1.9m.
Model
Rated load
(kg)
Stroke
(m)
Air pressure
(MPa)
(kgf/c?)
Lifting speed
(m/min)
Air consumption
(m³/min)
(normal)
Air inlet
Mass
(kg)
EHW-60
60
1.9
0.4(4)
18.5
0.55
Rc 3/8
9.2
0.5(5)
22.5
0.7
0.6(6)
26.0
0.88
EHW-120
120
1.9
0.4(4)
11.0
0.59
Rc 3/8
9.4
0.5(5)
13.5
0.75
0.6(6)
16.0
0.93
---
Accessories
---
-Plain Trolley
When attached to a beam, this trolley enables smooth horizontal movement by hand.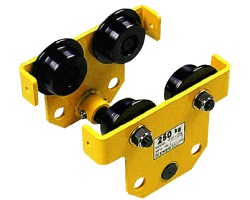 -Air Motor Trolley
This type of trolley is powered by air and transports a suspended load horizontally. You can also combine this trolley with an Air Hoist for use as a crane.